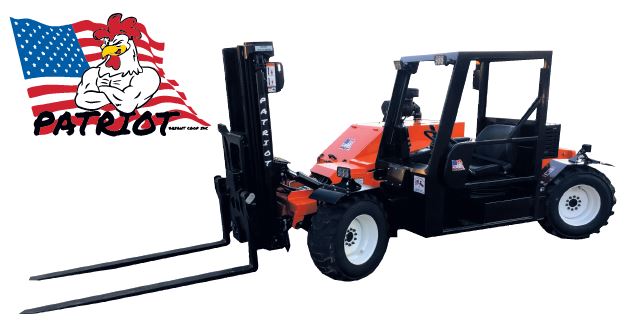 -NEW for 2021
The Patriot 4-Wheel Poultry Forklift features our Patented Free Lift Mast (Patent No. 8777545).
The all-steel welded construction makes the Patriot chassis very durable while its wide and low-profile frame provides the machine with great stability. The Patriot is equipped with a hinged type hood, swing out motor compartment and removable covers, as well as a practical layout of major components and service points, allowing for exceptional maintenance and service access. Every aspect of the Patriot is user friendly both in the field and while in the shop for maintenance.
The comfortably designed operator enclosure features a complete instrument panel, a foot throttle for operator friendly speed control, a forward and reverse hand control on the column, a foot controlled hydraulic dump valve pedal (i.e. brake), a main electric shut-off switch and a heavy duty suspension seat with retractable seat belt. The operator of the Patriot will find the leg room and ease of operation exceptional for the industry.
The Patriot combines 4-wheel drive capability with 4-wheel steering, allowing the operator the ability to maneuver through the worst conditions.
Characteristics
Engine
Kubota liquid cooled V3307-CR-TIE4B is a 74-horsepower engine. This Final Tier IV engine is equipped with glow plugs and an overheat and low pressure shut down device.
Type
4 cylinders in-line
Gross power (@ 2600 RPM) 74 HP
Fuel tank capacity
30 US gal. (95 l)
Hydraulic main tank capacity
33 US gal. (83 l)
Transmission
The complete series of Rexroth components including the hydraulic pump and drive motors are the perfect match to give you the most efficient machine possible. The hydrostatic system includes a high-quality pressure filter to increase life expectancy.
Brakes
The forklift uses the hydrostatic as main braking system and a spring applied and hydraulic release emergency / parking brake. Using the hydrostatic as brakes gives you a maintenance free system.
Chassis
The all-steel welded construction makes a very rugged and rigid chassis. The low-profile frame provides a stable machine. Exceptional maintenance and service access, due to a swing out motor compartment and removable covers removable covers, as well as sensible layout of major components and service points.
Mast
The three-stage free lift mast is standard. The use of Thrust Blocks made of high strength and low friction thermoplastic material in the rotator and carriage side load increase the life cycle of the mast rails. These Thrust Blocks can sustain greater impacts than conventional expensive to maintain roller systems. Both lift chains are of multiple-leaf construction with convenient adjustment points. The hoses for carriage attachments and free lift cylinder are mounted inside the mast rails for maximum protection.
Hydraulic System
One tandem gear type pump directly mounted on the hydrostatic pump. In-tank suction strainer and easy to replace spin-on high quality return filter ensure clean oil. The monoblock control valve is easily accessible and is directly controlled. The monoblock and direct link control valve system makes this system the most reliable system possible.
Steering System
Hydraulic system delivers constant oil flow to hydrostatic steering system for uniform steering response. The steering cylinder has a 3.5" bore with welded rod ends for durability. High strength link is connected directly to the steering yokes which are equipped with oversized high capacity Timken bearings.
Tires
ALL: 12 X 16.5  12 ply tires
Complete instrument panel:
The Patriot information center is a digital panel connected directly to the electrical harness of the engine. This allows for the end users to be able to see all stat information at a glance. The station also provides simple diagnostic information if an issue arises in the engine.
Standard accessories:
Electric horn, seven (7) LED working lights (2 whites and 5 reds), back up alarm and LED strobe light.
Specifications
Model: Patriot
Height (to top of overhead guard):  81″
Wheelbase: 114″
Width (outside of front tires): 85 3/4″
Approximate Weight: 12,500 lbs. +/- 3%
Basic Rated Capacity: 6,000 lbs. @ 24″ load center
Options
Contact a sales rep today to discuss optional configurations to meet your specific needs. .Sales Information
Documentation
Patriot Forklift Flyer
Technical bulletin for priming fuel 03-26-2020 Rev. 002
Patriot Parts Manual
Patriot Parts Manual 12_21 (SN6 and UP)
Patriot Operations Manual ENG_SPA