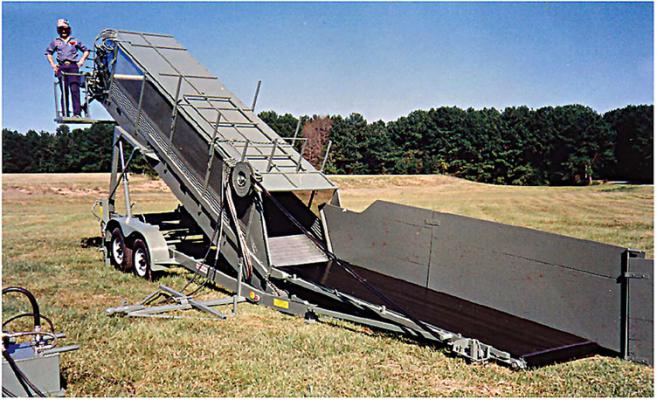 ---
Bright Coop, Inc.'s Turkey Pre-Loader offers loading crews a self-contained Pre-Loader engineered to work with the Bright Turkey Harvester. Two people can easily position the 45″ wide x 12′ long Pre-Loader for loading. It slides into the Harvester for transport from one location to another. During loading, the Pre-Loader is stationary above the Harvester's conveyor with birds moving from the Pre-Loader onto the conveyor.
Key Benefits:
Fast Setup for Loading
Easy to Position for Loading
House end of Pre-Loader does not roll back and forth minimizing bird hesitation when stepping onto Loader and helps improve grade.
No need for separate truck or trailer to transport Pre-Loader
Application:
A hydraulic hose reel enables the Pre-Loader to be pulled out of the conveyor for positioning for loading with one power source for both the Pre-Loader and the conveyor. When loading bottom coops, the Pre-Loader automatically positions itself to the same degree of incline as the woven wire belt in the Harvester.
The entrance to the Pre-Loader can be positioned at the desired height with litter banked up to the edge of the Pre-Loader belt which helps prevent bird hesitation as they are herded onto the conveyor.
For transporting the Pre-Loader rolls on a flush-mounted track inside the conveyor. The flush mount is smooth inside the conveyor so birds can't hang up, suffer injury or get damaged when loading.
Features
Running Gear
4″ x 6″ x 1/4″ tubing with 1-1/2″ pipe crossmembers
Axles & Brakes
(2) 6,000 lb. rubber torsion axles with electric brakes
Tires & Wheel
285/75R x16; 16 x 6.25 steel – 8 hole
Lights
Rubber mounted DOT approved with sealed wiring harness
Landing Legs
(3) manual crank drop legs
Tongue
Pulls from cooper's end; uses either 2-5/16″ ball or Pintle eye hitch
Main Conveyor
Frame – 10″ channel; lower sides – tuff scuff; upper sides and top – expanded metal
Conveyor Belting
Galvanized wire belt
Cooper's Platform
Self leveling during operation; platform folds with spring assist for transport
Finish
Painted standard color boxwood green (optional colors available)
Options
Hydraulic landing legs
House loading tongue; Metal corral boards
Intralox plastic belt
Bright Power Pack – uses 18 HP Engine with Electric Start, 5 gal hydraulic oil reservoir, hoses, disconnects battery and filters.
Specifications
Dimensions: 45″ wide x 12′ long
Documentation